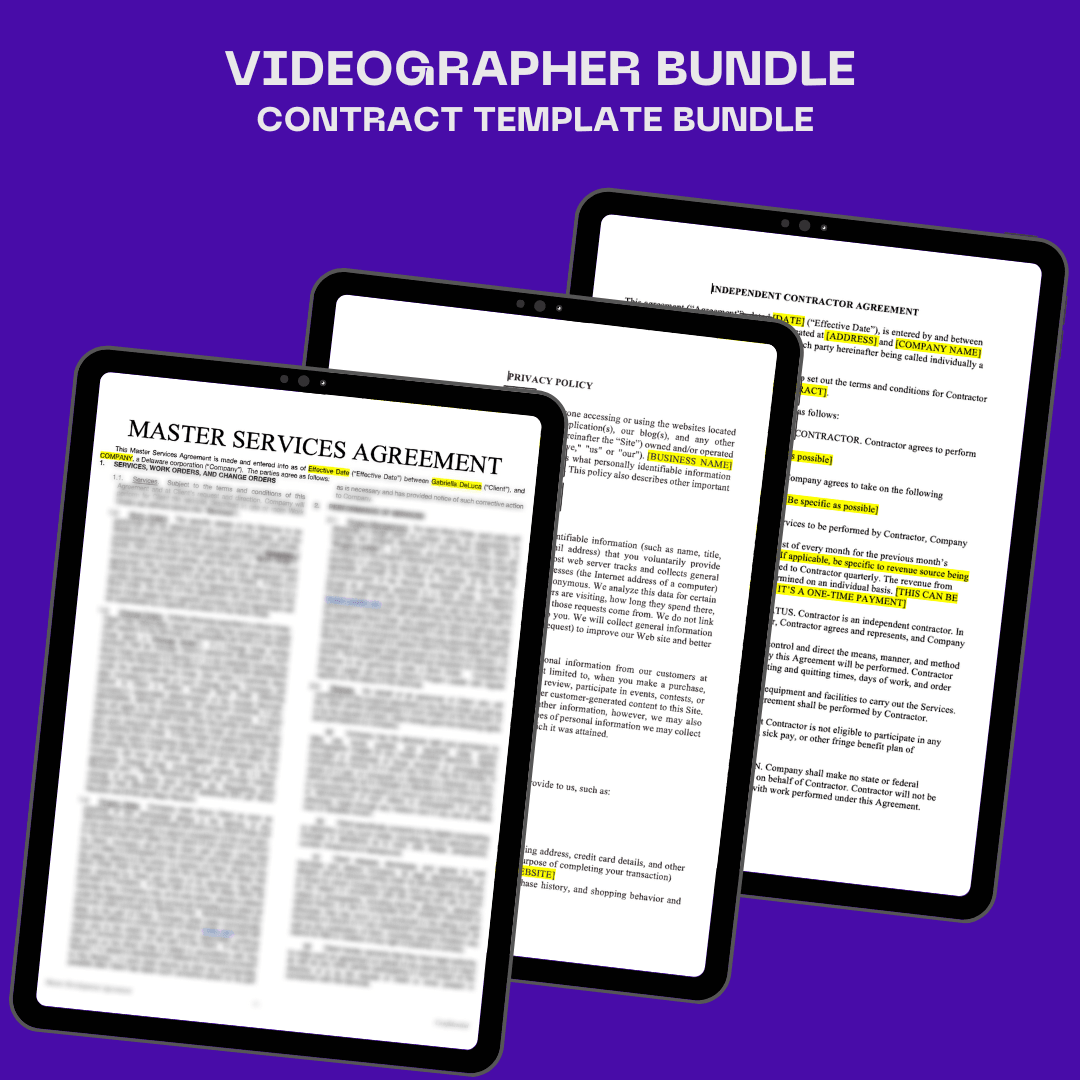 Videographer Contract Template Bundle
Translation missing: en.products.product.price.regular_price
$497.00
Translation missing: en.products.product.price.sale_price
$497.00
Translation missing: en.products.product.price.regular_price
Videographer Contract Template Bundle
Business Legal Hub is proud to introduce the Videographer Contract Template Bundle – your complete solution for legally binding videographer contracts. Our bundle includes four essential contract templates that are designed to cover all aspects of the videography business, from project agreements to website terms of use.
The bundle includes the following templates:
Videography Services Agreement: This template covers all aspects of the videography project, including the scope of the project, payment terms, delivery deadlines, and ownership rights. It ensures that both parties are clear on their responsibilities and expectations, and helps to prevent disputes and misunderstandings.

Video Release Form: This template is essential for videographers who need to obtain permission to use images or footage of individuals in their projects. It protects both the videographer and the subject by clearly outlining the terms of use and any limitations on the use of the images or footage.

Independent Contractor Agreement: This template is perfect for videographers who work as independent contractors. It outlines the terms of the working relationship, including payment terms, responsibilities, and expectations. It can help to protect both parties in case of disputes or misunderstandings.

Website Privacy Policy & Terms of Use: This template is designed to protect the videographer's website and its users. It outlines the terms of use of the website and provides a clear privacy policy that complies with legal requirements.
Using our Videographer Contract Template Bundle can save you time and money, as you don't need to hire an attorney to draft custom contracts for each project or business arrangement. Our templates are easy to use and customizable, with fill-in-the-blank sections that allow you to input your own information.
At Business Legal Hub, we are committed to providing high-quality legal templates that make the legal process simple and accessible for everyone. Our Videographer Contract Template Bundle is no exception. Purchase our product with confidence, knowing that you are getting a reliable and easy-to-use set of contract templates that can protect your business and your clients.
We are confident that it will be a valuable tool for your business.