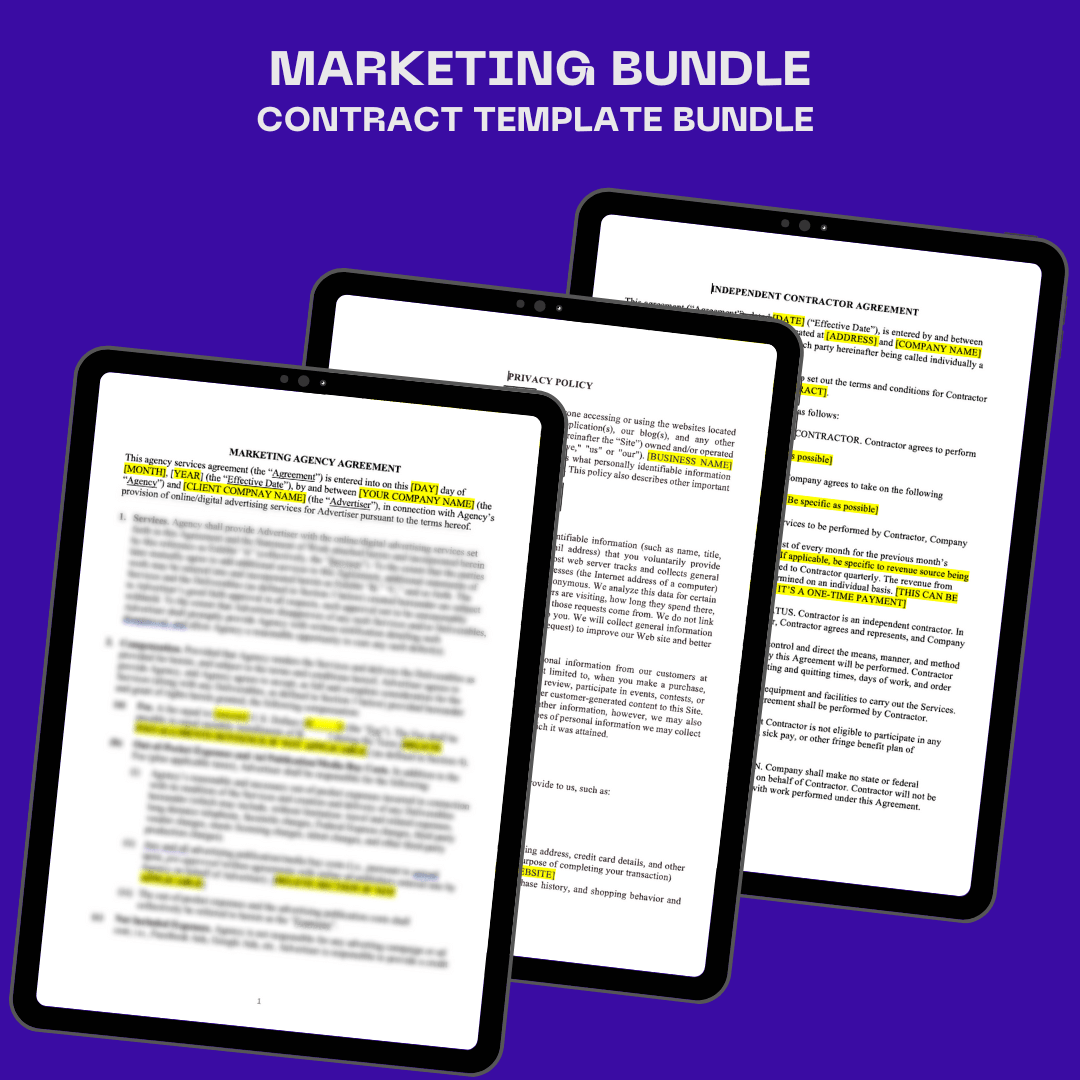 Marketing Services Bundle
Translation missing: en.products.product.price.regular_price
$497.00
Translation missing: en.products.product.price.sale_price
$497.00
Translation missing: en.products.product.price.regular_price
Marketing Services Bundle
Are you a marketing professional, an agency, or a freelancer providing marketing services? This Marketing Services Bundle can be the right choice for your business needs.
The Marketing Services Bundle is a comprehensive solution for business owners looking to offer professional marketing services to their clients. This bundle includes four essential contract templates:
Marketing Services Agreement
Independent Contractor Agreement
Website Privacy Policy

Website 

Terms and Conditions
The Marketing Services Agreement outlines the scope of work, deliverables, timelines, payment terms, and other important details related to the marketing services being offered. This template ensures that both the business owner and the client are on the same page regarding the expectations and obligations of the project.
The Independent Contractor Agreement sets out the rights and responsibilities of the independent contractors working on the marketing project. It also includes information on compensation, confidentiality, and termination.
The Privacy Policy and Terms and Conditions for the website are included to ensure compliance with legal regulations and protect the rights of website users. The Privacy Policy outlines the website's policy on collecting, using and disclosing personal information of its users. The Terms and Conditions sets out the rules and guidelines for using the website, including information on user conduct, intellectual property rights, and disclaimer of liability.
With this Marketing Services Bundle, business owners can have peace of mind knowing that their marketing services are professional and legally compliant. The templates are customizable, easy to use and will help to ensure that your marketing services are in compliance with legal requirements.