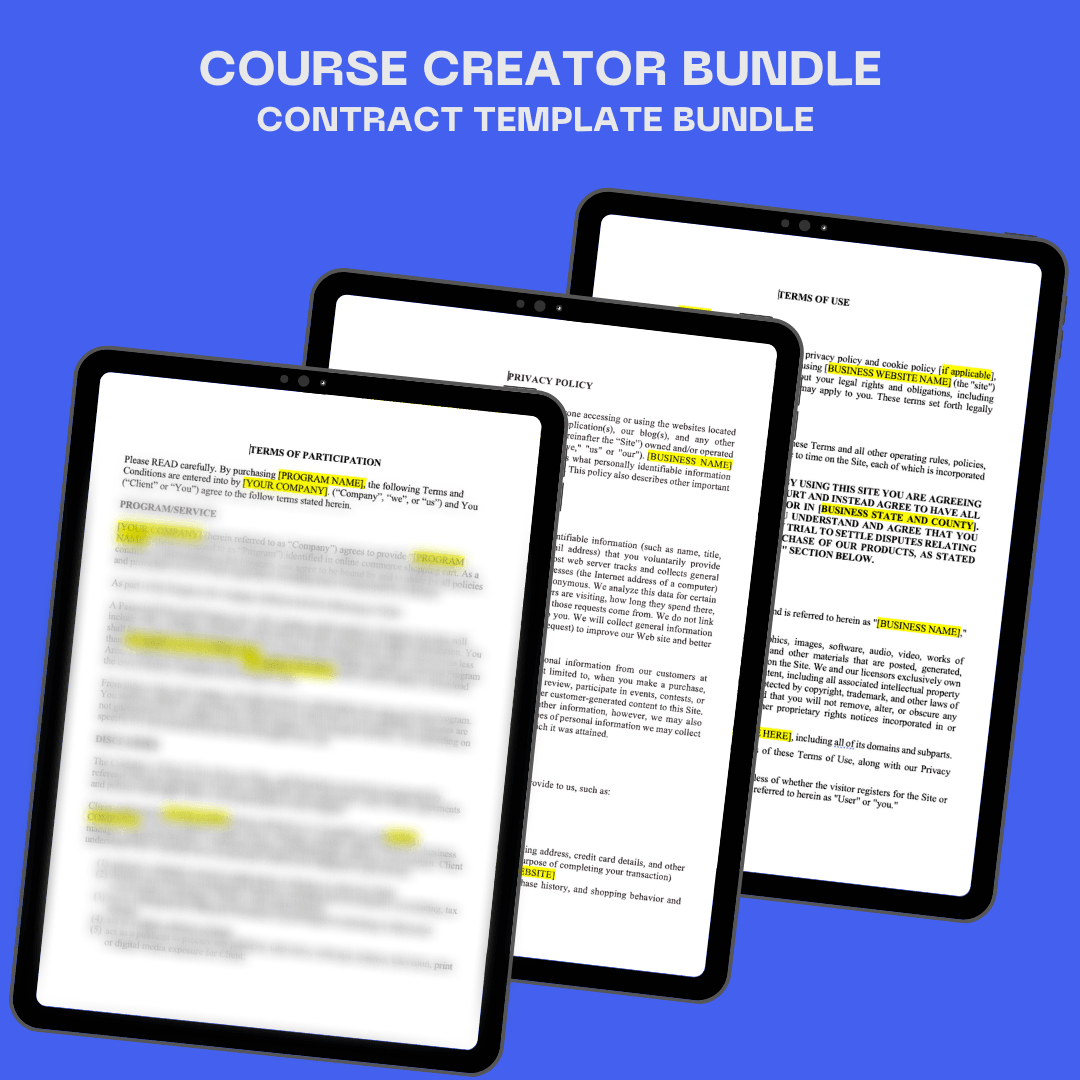 Translation missing: en.products.product.price.regular_price
$497.00
Translation missing: en.products.product.price.sale_price
$497.00
Translation missing: en.products.product.price.regular_price
Introducing the Course Creator Bundle from Business Legal Hub – the essential solution for course creators looking to establish a professional and legally compliant online presence. This bundle includes three essential contract templates: Course Terms, Website Privacy Policy, and Website Terms of Use.
The Course Terms contract template is designed to protect your online course content and set clear guidelines for students taking your course. This template outlines the scope of the course, the payment terms, refund policies, and any restrictions or requirements for accessing the course content.
The Website Privacy Policy template provides a clear explanation of how you collect, use, and store personal information from visitors to your website. This template ensures that your website is compliant with relevant privacy laws and regulations, and that your visitors' personal information is protected.
The Website Terms of Use template outlines the terms and conditions governing the use of your website by visitors. This template covers important aspects such as intellectual property rights, content usage policies, liability limitations, and dispute resolution procedures.
By using Business Legal Hub's Course Creator Bundle, you can establish a professional and trustworthy online presence for your course business, and ensure that your online courses and website are legally compliant.
These templates are easy to customize and can be tailored to suit the specific needs of your course business. They're the perfect solution for course creators looking to streamline their business operations and protect their valuable online assets.
Invest in Business Legal Hub's Course Creator Bundle today and take your course business to the next level with the peace of mind that comes from knowing your business is legally protected.