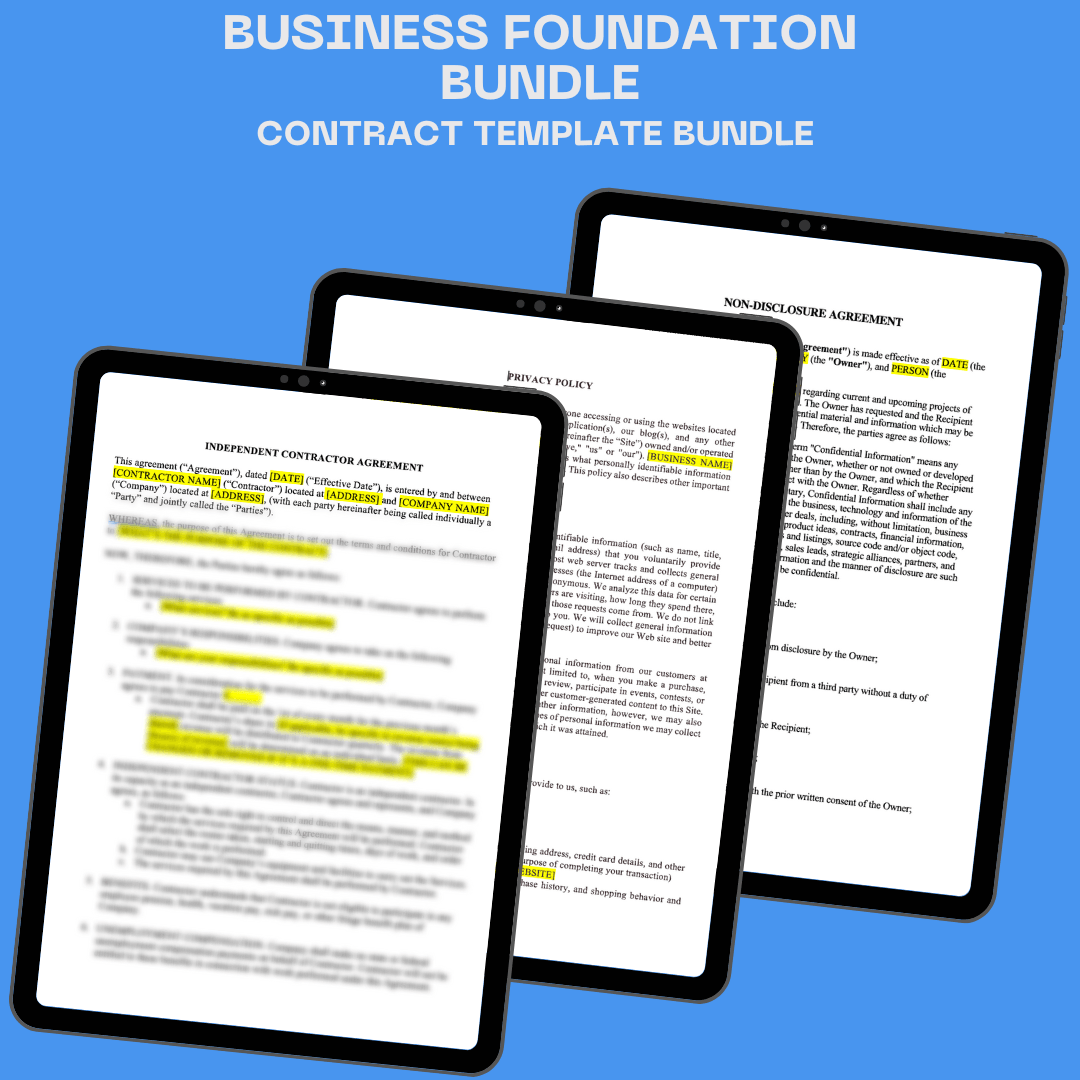 Business Foundation Bundle
Translation missing: en.products.product.price.regular_price
$497.00
Translation missing: en.products.product.price.sale_price
$497.00
Translation missing: en.products.product.price.regular_price
Business Foundation Bundle
As a business owner, you are going to need several contracts to maintain confidentiality and protect your business. However, rather than spending thousands of bucks on a lawyer, opt for our Business Foundation Bundle.
Business Legal Hub's Business Foundation Bundle contains contract templates drafted and peer-reviewed by experienced and licensed attorneys who can help you minimize legal interference and save on unnecessary expenses. Our contract templates are carefully written and thoroughly proofread in an easily understandable and reader-friendly style, simplifying legal jargon for you and your clients.
The Business Foundation Bundle includes:
Independent Contractor Agreement Contract Template 

Non-Disclosure Agreement Contract Template 

Website Privacy Policy & Terms of Use Contract Template 
The Independent Contractor Agreement ensures that any independent contractors working with the LLC are aware of their rights and responsibilities.
The Non-Disclosure Agreement protects the business's or client's confidential information. With the Business Foundation Bundle, business owners can have peace of mind knowing that their confidential Information is protected.
The Website Terms and Conditions contract template sets out the rules and guidelines for using a website, including information on user conduct, intellectual property rights, and disclaimer of liability. It also outlines the rights and responsibilities of both the website owner and the users.
The Privacy Policy contract template outlines the website's policy on collecting, using and disclosing personal information of its users. It also explains how the website owner complies with data protection regulations such as GDPR and CCPA.